The last february 17, Dub Invaders was playing in Lyon for the 12th Dub Echo edition. Pull-Up Mag has shooted a video-report for the venue, to broadcast these moments with the full crew and the guests : Omar Perry, Shanti D and Sir Jean.
These three videos by Pull-Up Mag can be watched on YouTube :
Dub Invaders feat Omar Perry :
https://youtu.be/WcL3iL2xL9o
Dub Invaders feat Sir Jean & Shanti D :
https://youtu.be/yx53VqIEBxc
Last tune with Sir Jean :
https://youtu.be/iPZcWN1qPmI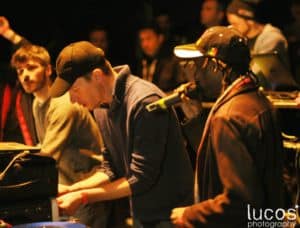 Dub Invaders just released a 'DUB BOX', special box grouping the four vinyls « Dub Invaders Vol.3 », a triple anthological CD « Mission Completed », and many goodies. Box available to order on BandCamp or directly at Jarring Effects (13, rue René Leynaud, 69001 LYON).